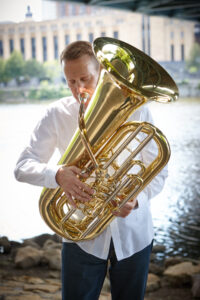 Ralph Hepola was born into a Scandinavian-American family in Saint Paul, Minnesota in the United States where his early eclectic musical interests led to piano study before starting on the tuba at age twelve. At seventeen, he was chosen to play before the British Royal Family in the Manitoba All-Province Band at Brandon University in Manitoba, Canada. While still in high school, Ralph began performing as an extra musician with the Minnesota Orchestra, which later included recordings, and tours to Carnegie Hall and Lincoln Center in New York City. While still a teenager, Ralph won a position with The United States Army Band of Washington, D.C. At age twenty, he won a full scholarship to the Manhattan School of Music in the Young Artist Competition of the Minnesota Orchestra/WAMSO.
Ralph earned his music degree at Northwestern University where he studied with renowned musician and teacher Arnold Jacobs. Five books have been published covering Mr. Jacobs' celebrated career, which included forty-four years as Principal Tubaist with the Chicago Symphony Orchestra. At Northwestern University, Ralph played and soloed with Jazz Ensemble I, which twice won Best Big Band at the Notre Dame Jazz Festival. Ralph also studied with Ross Tolbert, Principal Tuba, Minnesota Orchestra, 1966-2004.
Subsequently, Ralph won an international audition for the Basel Symphony Orchestra. Basel is Switzerland's third-largest city. There he performed under renowned conductors including Pierre Boulez and Antal Dorati. During five years in Europe, he performed as a soloist on Swiss Radio, and played in the Vienna Philharmonic at the Salzburg Music Festival in Austria under Herbert von Karajan, Claudio Abbado, and Lorin Maazel. Ralph then freelanced for two years in New York City with various jazz and classical ensembles.
Ralph Hepola is heard on forty professional recordings including the major labels EMI and Warner Bros., as well as twenty-eight video productions. Ralph has performed for national tours of Broadway shows at the State and Orpheum Theatres in Minneapolis and Ordway Center for the Performing Arts in Saint Paul.
The Southwest Minnesota Arts Council awarded Ralph an Individual Artist Career Grant in 2017. The Minnesota State Arts Board awarded highly-competitive Artist Initiative Grants to Ralph Hepola for both 2010 and 2012. In 2004, Ralph completed a seven-week residency at the Wurlitzer Foundation (awarded internationally) in the esteemed arts community of Taos, New Mexico.
Ralph has also performed at Spoleto Festival USA in Charleston, South Carolina which "is internationally recognized as America's premier performing arts festival"; the Children's Theatre in Minneapolis, which is North America's largest theatre for young people and their families; as well as the Guthrie Theater, the nation's largest regional theater.
Ralph has played performances of seventy-three different operas in ninety-eight opera productions with fifteen different musical organizations in the United States and Europe. He has performed on world premiere opera recordings including Kurt Weill's Die Buergschaft with Spoleto Festival USA on the EMI Classics label, and The Grapes of Wrath with Minnesota Opera. He also played on Silent Night which was commissioned and premiered by Minnesota Opera for which composer Kevin Puts was awarded the 2012 Pulitzer Prize in Music.
Since early 2019, Ralph has been based in Springfield, Missouri, which is centrally-located among several major American metropolitan areas.
Ralph Hepola's creative life has now entered a new era. One of the main goals in the arts world is to create something new. That's what everyone is trying to do. Creating something new, even in a niche of the arts world, is truly an accomplishment. Ralph's latest recording showcases his blues, bebop, ballad, fusion, Latin and instrumental rock compositions and performances on the tuba accompanied by world-class teammates.